About Electronics and Communication Engineering Department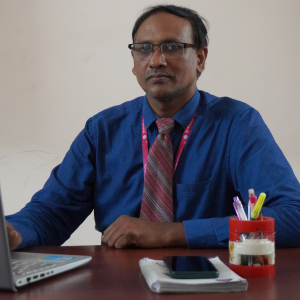 The Electronics and Communication Engineering (ECE) Department has a rich tradition in research and teaching. Department of ECE AT MRCL was established in the year 2009, with the approval of AICTE. The Department offers B. Tech. program in Electronics and Communication Engineering and M. Tech. degree in VLSI Design and Embedded systems. The faculty team consists of experts from the industry and academia. Electronics and Communication Engineering laboratories are equipped with state-of-the-art equipment and advanced software that enables the design of Very Large Scale Integrated (VLSI) circuits, MATLAB.
Several faculty members have received their graduate and postgraduate degrees from institutions of international repute such as Indian Institute of Technology, State universities and have been working on research and development projects in firms across the globe. Our students actively participate in organizing various events such as technical workshops through the IETE student chapter. Several faculty members and students are actively engaged in research and regularly publish their work in international journals and conferences.
The research interests of the faculty members of the department encompass the wide area of applied and fundamental aspects of Electronics and Communication Engineering. The Department has strong research programs leading to Ph.D. degree in all the areas of Electronics and Communication Engineering.
Faculty are encouraged to take independent initiatives with collective responsibility in all the relevant academic and R&D dimensions like teaching, research, and development, continuing education, or organizing workshops/ conferences, symposia, etc.
The department has highly qualified faculty having specialized in diversified areas of technology like Communications, Signal Processing, Microelectronics, Microprocessors, VLSI, Instrumentation and Control, and Digital Electronics.
The department is headed by Mr. T. Ravi Babu and it has 21 teaching faculty. Cadre wise breakup of the faculty position is as under:
| Designation | Total |
| --- | --- |
| Professors | 03 |
| Associate Professors | 06 |
| Sr. Assistant Professors | 03 |
| Assistant Professors | 09 |
| Lab technicians | 05 |
| Supporting staff | 02 |
Department Objective
To produce engineering graduates with academic excellence, positive attitude, good communication, and technical skills enriched with good character, self-confidence, and leadership qualities which help them for easy employment in any industry as well as academic pursuance for further higher studies in India or abroad.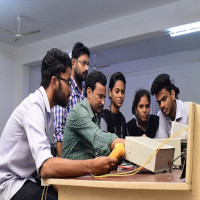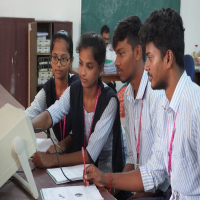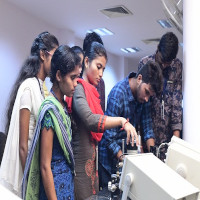 List of ECE Labs:
Analog-Communication Lab

DC Lab

Microprocessor Lab

Microwave Lab

Simulation Lab

VLSI Lab
Placements
| Academic Year | No. of Placements | % of students placed |
| --- | --- | --- |
| 2022-23 | 16 | 17 |
| 2021-22 | 16 | 17 |
| 2019-20 | 24 | 26 |
| 2018-19 | 21 | 35 |
| 2017-18 | 25 | 41 |
| 2016-17 | 21 | 35 |
| 2015-16 | 27 | 45 |
| 2014-15 | 41 | 68 |
Faculty Achievements
Dr.B Anjanee Kumar., Professor, ECE received Innovation patent for "Energy Replenishment in Sensor Nodes for Weather Forecasting". Read more