About Mechanical Engineering
We established the Mechanical Engineering Department at MES in the year 2009 with 120 students. It is one of the crucial activities in the engineering profession, and its principles are involved in the design, study, development, and construction of nearly all of the physical devices and systems. Continued research and development have to lead to better machines and processes to help mankind.
The faculty members are proficient in varied areas like Production, CAD/CAM, Thermal Engineering, Computational Fluid Mechanics, Robotics, and Machine Design. Our department always supports institution-industry collaboration in the form of training and consultancy services.
Department of Mechanical Engineering provides a pathway to do research work. Research works are carried out in various fields which include structure-property correlation of various alloys, rapid prototyping and rapid tooling, composites, coatings, etc.
The MECH department is headed by Dr. C. Visweswara Rao and has 17 teaching faculty. Cadre wise breakup of the faculty position is as below,
| Designation | Total |
| --- | --- |
| Professors | 03 |
| Associate Professors | 05 |
| Sr.Assistant Professors | 01 |
| Assistant Professors | 08 |
| Lab technicians | 05 |
| Supporting staff | 02 |
Department Objective 
To encourage students to accept ethical and value-based goals in their profession. To install a feedback system by which students can take pro-active participation in academics. To develop entrepreneurial skills and personality to face the challenges of the future. To encourage student participation in activities like sports, games, fine arts, and culture.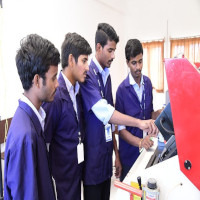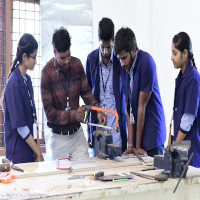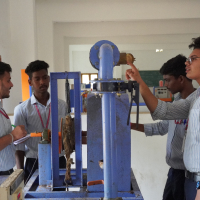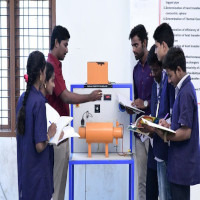 List of MECH Labs:
Engineering Workshop

Fluid Mechanics & Hydraulic Machinery Lab

Production Technology Lab

Thermal Engineering Lab

Machine Tools Lab

Metrology Lab

Instrumentation Lab

Mechanics of Solids Lab

Metallurgy Lab

Heat Transfer Lab

Simulation Lab
Placements
| Academic Year | No. of Placements | % of students placed |
| --- | --- | --- |
| 2014-15 | 41 | 73 |
| 2015-16 | 27 | 64 |
| 2016-17 | 21 | 56 |
| 2017-18 | 25 | 43 |
| 2018-19 | 21 | 70 |
| 2019-20 | 24 | 64 |